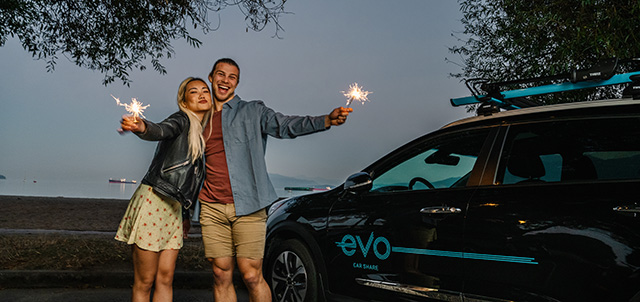 Evo launches in Victoria
August 1, 2021
We are excited to officially launch in Victoria, BC on August 1, 2021. We started in Vancouver and now we are bringing our flexible and environmentally friendly car sharing to Victoria and offering a new choice for getting around the city.
Starting with 80 of the latest Toyota Prius low-emission hybrids, Members in Victoria will get all our usual Evo perks. Free parking will be available within the Home Zone through parkade spots, street parking in residential areas and free metered parking. We also have two satellite parking zones at the University of Victoria and Camosun College, Lansdowne Campus. Plus, gas, insurance, and vehicle maintenance are on us like always. For more info around our launch in Victoria, click here.
We will now have two separate Home Zones – Metro Vancouver and Victoria. To ensure there are enough Evos are available in each zone for our Members, you'll need to start and end your trip in the same Home Zone. You can still go anywhere in Canada and take Evo for as long as you need, just remember to leave Evo in the same Home Zone you left from.
To celebrate our arrival to Victoria we're giving you free membership and 30 free minutes*. The offer is available until December 31, 2021 so make sure you enter promo code HELLOVIC30 when you sign up to apply the offer.
Plus, our Evo app has a new Refer a Friend feature so you can share the Evo love with your Island fam and friends. Through the main menu of our app you can click on Refer a Friend and invite them to become an Evo Member. After their Membership is approved and they have taken their first drive, you both will get $25 in driving credits.
Your Evo Team
*Offer expires December 31, 2021 and is valid on new Evo Memberships only. Free minutes are valid 60 days from time of Membership approval. See Member Agreement here.
Stay safe and smart in the new normal
May 20, 2020
Hey Evo Members,
We've been thinking about you a lot lately! It's been awhile, and we wanted to take a moment to check in. But first, a big thank you to everyone for helping to keep our community safe and only using Evo for essential trips. We appreciate you!
As BC enters phase 2 of its restart plan, some of you may be starting to get out more. We're watching the situation carefully and want you to know that Evo is here for you as you start to venture out (within official guidelines of course). A few quick updates:
Restrictions may be starting to ease up, but our cleaning crew certainly isn't! They're still hard at work disinfecting cars. So, if your Evo isn't quite sparkling on the outside, it's because they're focused on thoroughly sanitizing the inside.
To make it easier to do your part, we've put hand sanitizer in every Evo for you to use at the start and end of each trip.
Help us help you. Just push and hold the help button to flag any cleaning issues.
Let's keep up the momentum by continuing to follow official guidance around physical distancing, by maintaining good overall personal hygiene, including regular hand washing, and by staying home if you don't feel well 😊.
We'll be here when you need us, and in the meantime, stay smart and take care of each other!
Your Evo Team
Let's #flattenthecurve together
April 14, 2020
Thanks to everyone staying at home to #flattenthecurve. With Evos used for essential trips only, we're temporarily taking 200 cars off the road so our team can clean the vehicles available to Evo members even quicker. This leaves plenty of Evos for essential workers and essential trips, including the 250 Evo cars donated to the frontline healthcare workers during this time. We've also provided a bottle of hand sanitizer in each Evo to use before and after your trip; please leave it in the car for the next Evo Member.
Thank you for hunkering down, and thank you to our frontline workers who are committed to helping those in need.
Be kind, calm and safe.
Your Evo team
Evos for healthcare workers
March 31, 2020
Over the past month, we've witnessed British Columbians at their best. Thousands have stepped up to go to work while the rest of us do our part by staying home. Grocery store clerks, public transit workers, first responders, city staff, and other essential service workers are keeping our cities running.
We're especially grateful for our healthcare workers, putting in long hours on the front line to care for the most vulnerable. We can only begin to imagine what your world looks like right now.
To help support our healthcare workers to stay mobile, we're allocating 250 Evo vehicles to provide each one to a healthcare worker for their exclusive use. We've partnered with local Health Authorities who have allocated each Evo to an individual frontline worker in need of a vehicle. Each car will come sanitized and fuelled up, designated for that individual to use for free for 30 days, and may be extended as appropriate.
On behalf of everyone at Evo and BCAA, thank you for helping to make this new initiative possible by staying home and only using Evo for essential trips.
Your Evo Team
COVID-19 Update: Evo now for essential trips only
March 25, 2020
Everyone's health and safety comes first. That's not easy for a service based on sharing, but it's vital we all act now and work together to flatten the COVID-19 curve and save lives.
The thing is, we know some people rely on Evo for essential trips and we want to be there for frontline workers to get to work, or for picking up urgent groceries or meds. So, our ask to you is, if you don't need us, please stay home.
That's right, we're asking everyone to stop using Evo for non-essential trips. It's simply the right thing to do for our community's safety – and that's what's important right now.
We've more than doubled our Evo cleaning and disinfecting and I want to give a big thanks to our awesome team for all their hard work. For your peace of mind if you need Evo for an essential trip, please bring and use wipes at the start and end of your trip for everything you touch (then take the wipes with you to throw in the garbage). That'll include steering wheel, door handles, gear shift, seat belt, parking brake, blinker and any buttons. Just like any other time you venture out, avoid putting your hands to your face before washing your hands with water and soap for at least 20 seconds, to keep yourself and all others safe.
I live here, you live here. It's our home. Let's all do everything we can to stay safe and look after each other as we get through this massive challenge together.
On behalf of everyone at Evo, our team is looking forward to getting you all back on the road when it's safe to do so.
Check out Healthlink BC for more info and guidelines.
Eric Hopkins
President & CEO, BCAA and Evo Car Share
COVID-19 Update for Evo Members
March 17, 2020
Hi Evo Members,
With the ever-evolving situation around COVID-19, we wanted to check in with you and let you know what we're doing to keep you safe and keep our Evos available for those who need them.
While we're all doing our best to support social distancing, we know that for many of you, Evo is an essential way to get around. That's why we've been taking the following measures:
We've stepped up cleaning – our fleet team is scrubbing down and disinfecting interior surfaces more intensely than ever and they're equipped to avoid spreading germs.
We've temporarily closed our Evo retail location in Gastown until further notice.
We've decided to cancel our participation in local events until we, and our community, feel it's safe to go back to regular scheduling – so you won't see our brand ambassadors around for a while.
We've postponed the scavenger hunt we had announced earlier this month, but we're determined to make it happen once it's safe to do so.
If you've lost or found items in your Evo, please email or call us.
If you need to get your Member card replaced, please give us a call.
We're also asking everyone to help and reduce the risk for fellow Evo Members. Sharing only works when we all do our part.
If you're sick, please stay home.
If you or someone you've been in touch with has tested positive for COVID-19, please quarantine yourself and refrain from using Evo.
If you're driving an Evo, please use good respiratory hygiene and wipe down surfaces before and after you use them.
Please do take your garbage, including any wipes or tissues, with you as to not put others at risk.
As always, we're here to help you 24/7, through our app, by email or by phone at 1-844-EVO-2EVO (1-844-386-2386).
Let's keep working together to keep everyone safe.
Take care!
Eric Hopkins, President & CEO, BCAA and Evo Car Share
What are you waiting for?
Join the evolution of car sharing.