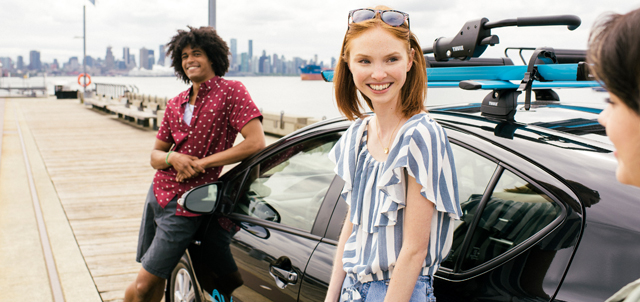 Evos for healthcare workers
March 31, 2020
Over the past month, we've witnessed British Columbians at their best. Thousands have stepped up to go to work while the rest of us do our part by staying home. Grocery store clerks, public transit workers, first responders, city staff, and other essential service workers are keeping our cities running.
We're especially grateful for our healthcare workers, putting in long hours on the front line to care for the most vulnerable. We can only begin to imagine what your world looks like right now.
To help support our healthcare workers to stay mobile, we're allocating 250 Evo vehicles to provide each one to a healthcare worker for their exclusive use. We've partnered with local Health Authorities who have allocated each Evo to an individual frontline worker in need of a vehicle. Each car will come sanitized and fuelled up, designated for that individual to use for free until the end of April. We'll see how things look by then, and we're ready to extend that time if it makes sense.
On behalf of everyone at Evo and BCAA, thank you for helping to make this new initiative possible by staying home and only using Evo for essential trips.
Your Evo Team
COVID-19 Update: Evo now for essential trips only
March 25, 2020
Everyone's health and safety comes first. That's not easy for a service based on sharing, but it's vital we all act now and work together to flatten the COVID-19 curve and save lives.
The thing is, we know some people rely on Evo for essential trips and we want to be there for frontline workers to get to work, or for picking up urgent groceries or meds. So, our ask to you is, if you don't need us, please stay home.
That's right, we're asking everyone to stop using Evo for non-essential trips. It's simply the right thing to do for our community's safety – and that's what's important right now.
We've more than doubled our Evo cleaning and disinfecting and I want to give a big thanks to our awesome team for all their hard work. For your peace of mind if you need Evo for an essential trip, please bring and use wipes at the start and end of your trip for everything you touch (then take the wipes with you to throw in the garbage). That'll include steering wheel, door handles, gear shift, seat belt, parking brake, blinker and any buttons. Just like any other time you venture out, avoid putting your hands to your face before washing your hands with water and soap for at least 20 seconds, to keep yourself and all others safe.
I live here, you live here. It's our home. Let's all do everything we can to stay safe and look after each other as we get through this massive challenge together.
On behalf of everyone at Evo, our team is looking forward to getting you all back on the road when it's safe to do so.
Check out Healthlink BC for more info and guidelines.
Eric Hopkins
President & CEO, BCAA and Evo Car Share
COVID-19 Update for Evo Members
March 17, 2020
Hi Evo Members,
With the ever-evolving situation around COVID-19, we wanted to check in with you and let you know what we're doing to keep you safe and keep our Evos available for those who need them.
While we're all doing our best to support social distancing, we know that for many of you, Evo is an essential way to get around. That's why we've been taking the following measures:
We've stepped up cleaning – our fleet team is scrubbing down and disinfecting interior surfaces more intensely than ever and they're equipped to avoid spreading germs.
We've temporarily closed our Evo retail location in Gastown until further notice.
We've decided to cancel our participation in local events until we, and our community, feel it's safe to go back to regular scheduling – so you won't see our brand ambassadors around for a while.
We've postponed the scavenger hunt we had announced earlier this month, but we're determined to make it happen once it's safe to do so.
If you've lost or found items in your Evo, please email or call us.
If you need to get your Member card replaced, please give us a call.
We're also asking everyone to help and reduce the risk for fellow Evo Members. Sharing only works when we all do our part.
If you're sick, please stay home.
If you or someone you've been in touch with has tested positive for COVID-19, please quarantine yourself and refrain from using Evo.
If you're driving an Evo, please use good respiratory hygiene and wipe down surfaces before and after you use them.
Please do take your garbage, including any wipes or tissues, with you as to not put others at risk.
As always, we're here to help you 24/7, through our app, by email or by phone at 1-844-EVO-2EVO (1-844-386-2386).
Let's keep working together to keep everyone safe.
Take care!
Eric Hopkins, President & CEO, BCAA and Evo Car Share
What are you waiting for?
Join the evolution of Car Sharing.