Faster, Cleaner, Electric-er
Evolve E-Bike Share now in Whistler!
Meet Evolve E-Bike Share, the newest member of the Evo mobility fam. We're rolling into Whistler this summer (only until Oct 2022). Unlock and hit the road all from the Evo App. Existing Evo Members can hop on and take a spin right away, or join today.
---
How it works
Download the App and sign up
Get the Evo App from the App Store or Google Play, sign up and you're good to go. Evo Members can hop on Evolve right away.
Unlock the e-bike
Find and unlock an Evolve by locating the bike pins on the map.
Ride by the minute
Check out our rates here. There are no registration fees for e-bikes.
Return to any Evolve parking zone
There are eight parking zones in Whistler. Find parking locations around town in app and end your trip there.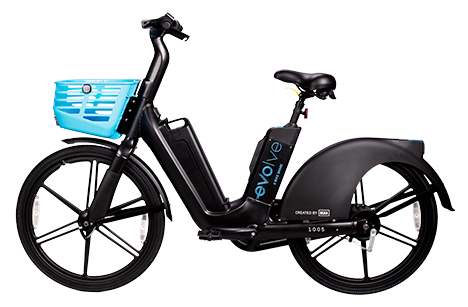 ---
Rates
Roll with Evolve E-Bikes at $0.35/min plus a $1 unlock fee.
Evolve E-Bikes are best used for short trips. A $20/trip fee, required by Resort Municipality of Whistler, is charged on trips over 59 mins. What's cool is that 100% of this fee will be donated to charities supporting local initiatives.
---
Evolve for Business
Interested in setting up a private fleet for your organization? Evolve E-Bike Share is also available for businesses in Metro Vancouver, Victoria and Whistler.
Give us a call and find out how our Program can help to achieve your business needs and sustainability goals.
What are you waiting for?
Join the evolution of mobility sharing.