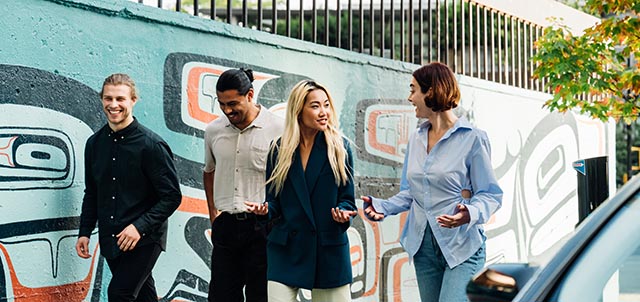 About Evo
We are the evolution of car sharing built for British Columbians. Evo gives you the flexibility to pick up and drop off in different locations, getting you from here to there with room for your friends. Our fleet of Toyota Prius Hybrids provides affordable travel with a lighter environmental footprint and all the space you need to enjoy the best of BC.
Evo Car Share acknowledges that we operate and support Members on traditional and contemporary territories of First Nations across what is known today as BC. Evo is headquartered on the lands of the hən ̓qəmin̓ əm̓ and Sḵwx̱ wú7mesh speaking peoples, known today as the City of Burnaby.
CREATED BY BCAA
BCAA is a mission driven organization committed to delivering peace of mind to British Columbians on the roads, at home and while traveling.
With over 940,000 Members, BCAA serves 1 in 3 households, with award winning home insurance, the #1 travel insurance in BC, and convenient auto insurance at 29 service locations throughout the province. BCAA is also dedicated to keeping kids safe on our roads, with initiatives such as the Community Child Car Seat Program to donate car seats to families in need and the School Safety Patrol program in elementary schools across BC.
BCAA recognizes the way British Columbians get around is evolving and that's why we created Evo. It is the next generation of mobility for BC, so no matter how you get from here to there, we want to be there to make sure you're good to go.
What are you waiting for?
Join the evolution of car sharing.