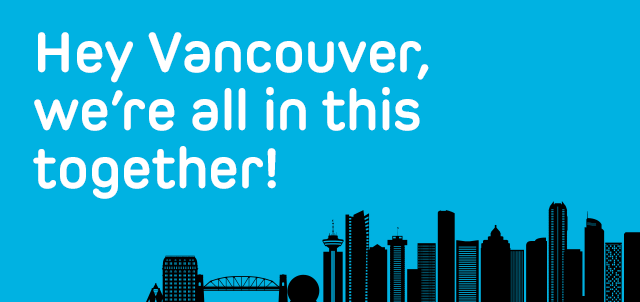 #StayatHome like a pro. A collection of things & ideas we love:
Stay community-focused
Get out on your balcony at 7pm each night and join fellow Vancouverites cheering for our healthcare workers.💗
Need a little help? Check out Share the goods, a new platform designed to match people in need of groceries and other essentials with those that have some to share.
Join a COVID-19 Facebook group to connect with others and help those in need!
Stay active
Here are a few local fitness studios doing amazing things to support their community and staff:
Stay social
We want to share some of the ways our team is staying social, virtually. Our hot tips:
Get a daily dose of positivity - follow @upworthy and @humansofNY on IG or FB for uplifting news stories and an inspiring online community.
Participate in a challenge – Check out the #Next90Challenge and commit to helping each other stick to the things that bring us joy!
Join an Instagram Live dance party – check out @mkik808's fabulous drag queen dance parties daily at 2pm PST! Or, dance it all off with other peeps around the lower mainland at QuaranTEAMDisco – a virtual way to join a dance party.
Get outside (from your couch) – watch one of these 10 local outdoor films streaming for free right now.
Take in a live concert – peruse this guide to the best live-streamed music content right now.
Have a Netflix party - a fun way to co-watch movies, shows and documentaries with your friends and family while staying isolated.
Plan a virtual hangout - hunker down at home and virtually meet up with your besties for happy hours, coffee dates, or online games!
Stay well fed
Why not use your time to master a new recipe or two? Here are a few great resources:
Pro tip #1- Grocery delivery services are experiencing high demand right now, so if plan to order online, give yourself plenty of time. SPUD orders open every Sunday; we like to set ourselves a little reminder!
Pro tip #2- Love to cook or bake but finding yourself short on time and creativity? Try pre-prepped options:
Fresh Prep helps you cook healthy meals in under 30 mins, with pre-chopped and pre-portioned high quality, fresh ingredients delivered straight to your door.
Grab a ready-to-bake bag of chewy salted chocolate chip or chewy triple ginger delivered from The Garden Strathcona via DoorDash. Both options are plant-based with ethically sourced ingredients and no refined sugar. Yum!
Check back for weekly updates, and don't forget to share your stories with us at @evocarshare!
Evo Birthday Scavenger Hunt
*Postponed temporarily
Get ready Vancouver, it's scavenger hunt time! We've got five super-awesome prizes up for grabs, one to mark each year that we've been a part of the Vancouver scene. But, you gotta find the special Evo to win 'em! Here's what we're giving away:
Norco VFR 1 Bike from Comor Sports
Rossignol Soul 7 HD Skis from Comor Sports
$500 Duer Denim GC + a pair of Vessi sneakers
GoPro Hero 8 Black Edition
Body Glove Performer 11 Inflatable 3.35 m (11 ft.) Stand-up Paddle Board
Here's how to win:
Tune in! Starting on our birthday, March 24th, we'll share one clue per day until the big reveal. Collect all five clues and put them together to determine the secret location, date, and time of the giveaway.
There are two ways you can get the daily clue:
1. On our Instagram Stories
2. From our Street Team at one of the following locations between 11am – 3pm:
March 24th - Yaletown BCAA Location
March 25th - YYOGA Kitsilano
March 26th - Evo Retail Location
March 27th - Duer Denim Gastown
March 28th - Riley Park Farmers Market
Good luck!!
💙 Evo
What are you waiting for?
Join the evolution of car sharing.