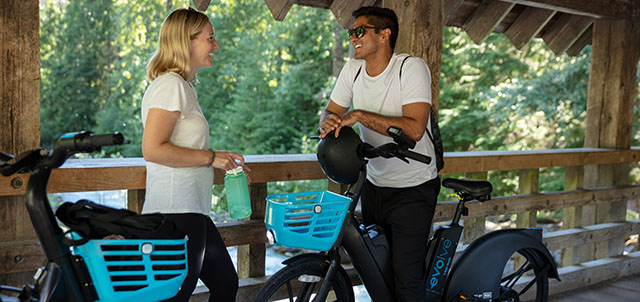 E-bike rates
Pay only for what you need. With per minute, per hour and monthly subscriptions available, you can share the good times, not just a bike.

Rates effective as of May 5, 2023
Per minute rate

$0.35

?

Per hour rate

$12.99

?

Unlock fee per trip

$1.25

?
Monthly subscription rate

Designed for frequent riders, you can reduce the per-minute rate to $0.10 with just $9.99/month (unlock fees still apply). Cancel anytime. Check our FAQ for any questions.

$9.99

Subscription minute rate

$0.10
Service fees
Sharing is caring. Please treat Evolve like your own bike. Service fees are charged to ensure Evolve is always in good condition for everyone.

Rates effective as of May 29, 2023
Unauthorized Parking Fee

$50

?

Unsecured E-Bike Fee

$50

?

Lost, Stolen, or Damaged E-Bike Fee

Up to $2,500

?

Ticket charge & Processing fee

$20 + ticket

?

Relocation Fee

$50 +cost of relocation

?

Loss of Use Fee (e.g. Impounded E-Bike)

$50 + cost of recovering

?

Excessive Cleaning Fee

$50- $150

?

Helmet Replacement Fee

$50

?

Evolve rates and fees are subject to GST.
What are you waiting for?
Join the evolution of mobility sharing.